The brutal winter weather had us bundled up in layers and layers of thick and heavy outerwear, but the change from winter to spring couldn't have been complete and on time. 
Gone are the days of heavy winter jackets and snow boots to combat below freezing temperatures; HELLO to beautiful days of 70-degree weather which provides the perfect balance between sun and breeze. 
That's right! 
70-degree weather gives us the chance to revamp our entire wardrobe. 
Need help revamping? 
That's why we've got six looks that will have you feeling cool, sexy and stylish as you strut your stuff and enjoy your time painting the town in this new sweet 70-degree weather.
Look 1: From the Office to Happy Hour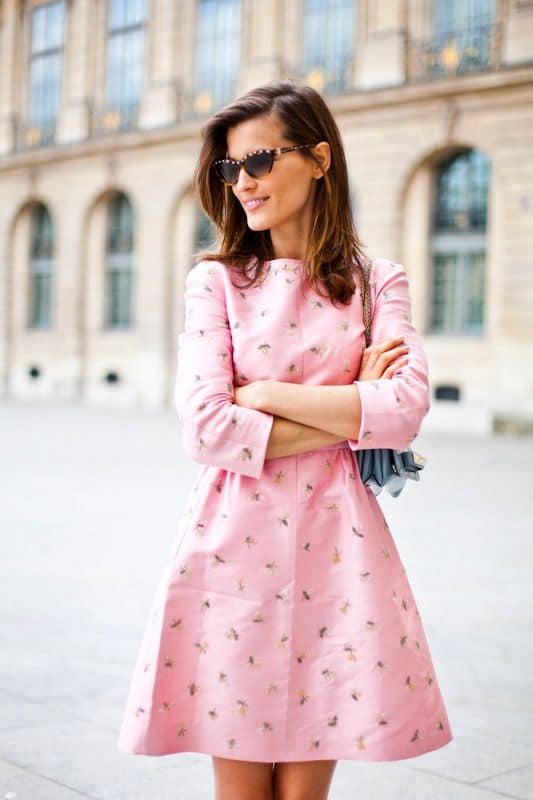 This super cute and comfy printed dress is the perfect look for both a day at the office and the night on the town.
It's three-quarter sleeves and almost knee-length screams 70-degree weather outfit. The cut and print combination give it a fun and quirky spin on business.
Another awesome feature: versatility!
Tone it down to super casual by pairing this dress with a denim jacket and ballet flats for a more comfortable walk around town.
Turn up to "all about business" by pairing it with your favorite fitted blazer and your business pumps.
To finish off your style, throw on a pair of sunglasses to shield your eyes from the rays, and a handbag to carry around your essentials.
This outfit will have everyone else in the office wanting to alter their wardrobe to keep up with you.
Look 2: Making My Way Downtown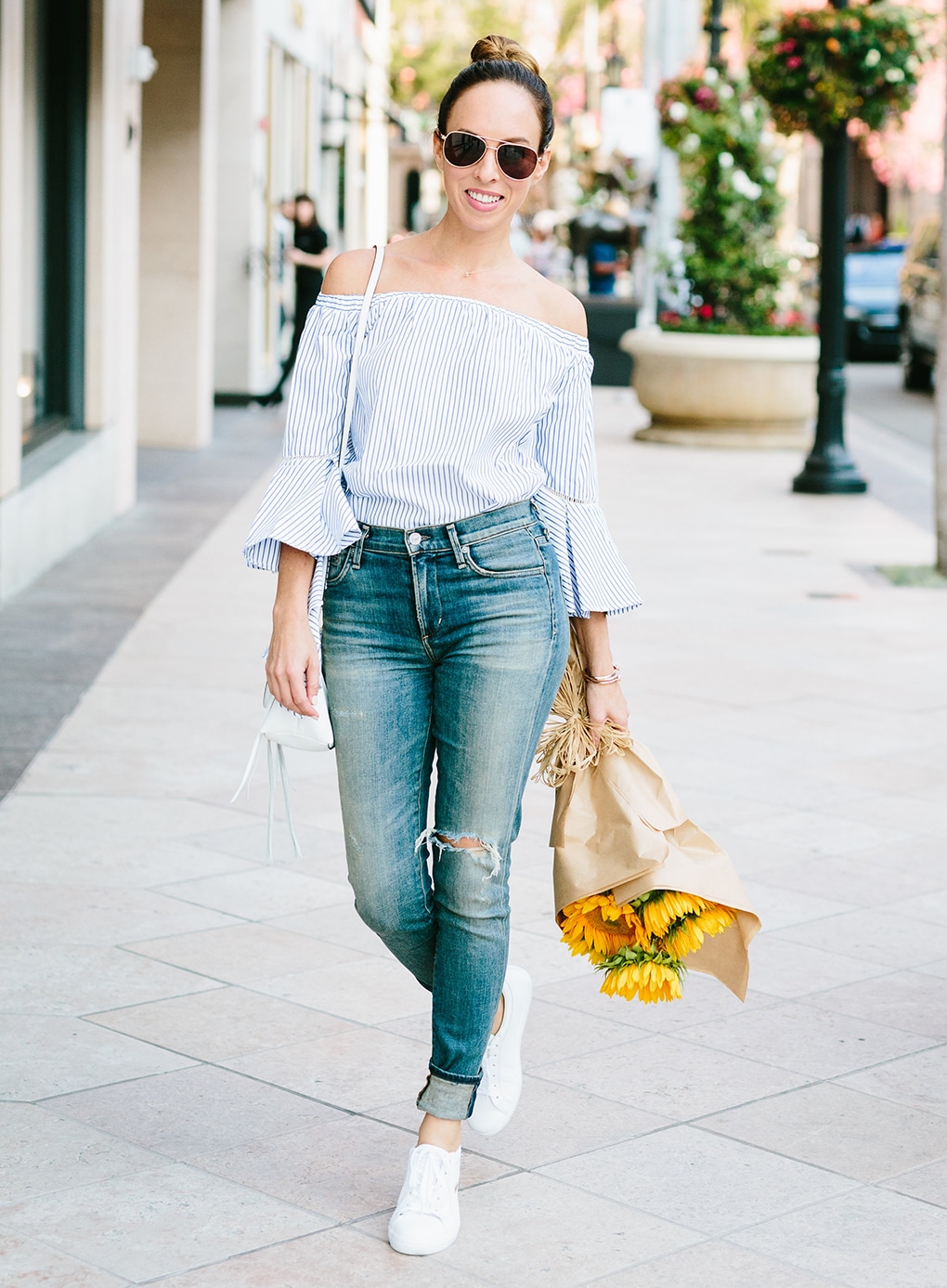 This outfit is a twist on the classic shirt/denim combination.
Our model is styled in a blue and white striped off the shoulder shirt with bell sleeves tucked into high waisted denim jeans with the fashionable hole in the knee.
She's paired her outfit with staple white skater sneakers, a long-strapped white handbag, round sunglasses, and a top bun for a fresh and clean casual look perfect for temperatures in the low to mid-seventies.  
The greatest feature of this look is that it's so simple, it can be dressed up to match your personality.
Throw in a dash of color with colorful shoes, a colorful blazer, or a colorful bag. Oh, you can also add a hint of glamor with an on-trend waist length necklace.
Look 3: Cute + Just In Case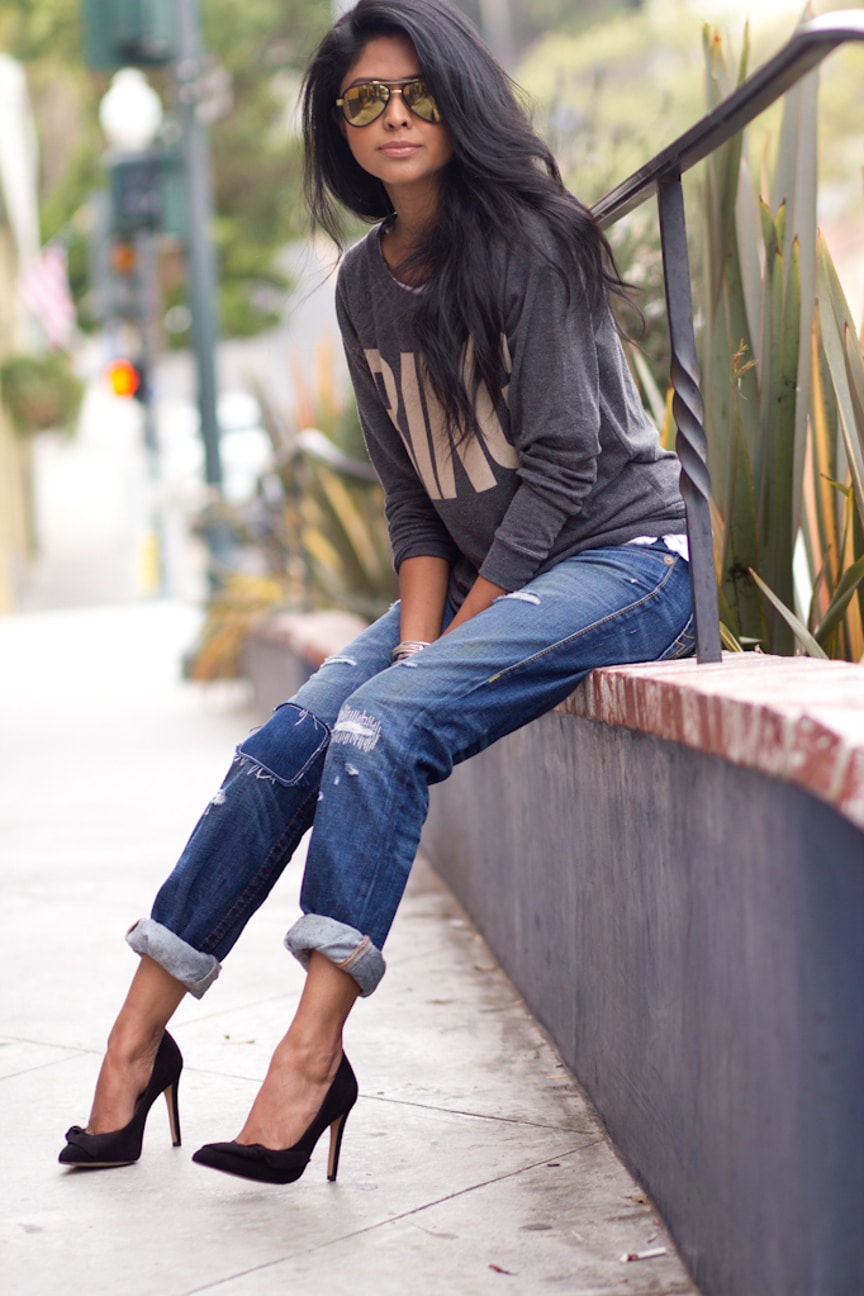 Athleisure is back by popular demand, and our model nailed this look that says, "I'm cute, but just in case I need to take it to the next level, I have my heels!"
She's dressed fabulously in an earth-toned sweater shirt paired with slightly baggy, blue denim rolled up at the ankles to accentuate her 3" pumps.
She accessorized with aviator sunglasses and long tresses frame her face.
This is a look which needs no modification and is perfect for a lunch date with friends or dinner and drinks on the town.
In the event that temperatures drop to the low seventies, the sweater shirt provides warmth and coziness without being heavy and stuffy.
Look 4: Out with My Girls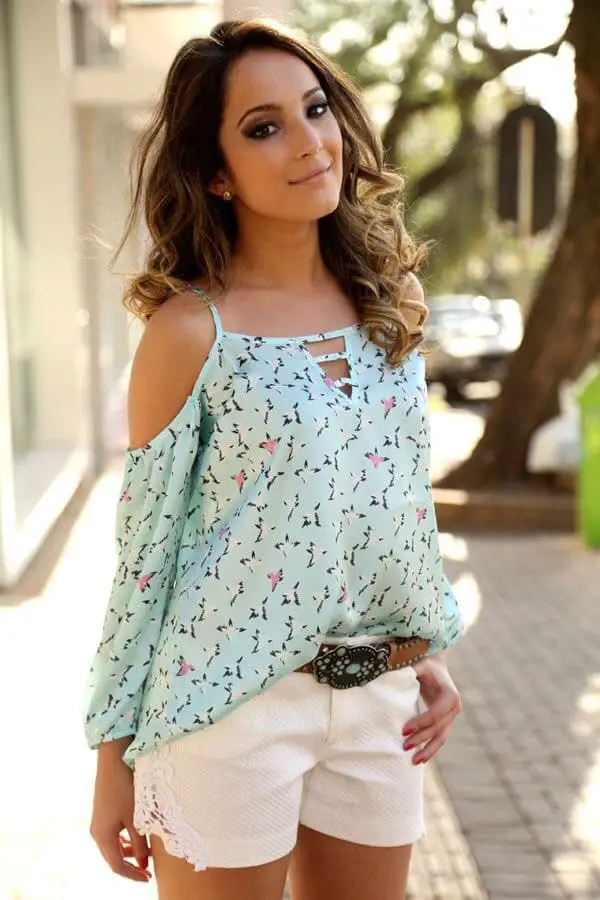 Sometimes, it can feel hot and stuffy when the temperature goes into the high seventies. a
She avoids the sweat by dressing in a sky blue patterned flowy cutout blouse tucked into a pair of embellished white short shorts cinched at the waist with brown and blue belt.
Take your style to the south by throwing on a cowboy hat and some cowboy boots, or you could glam up your outfit by wearing flatform sandals.
The beauty in this outfit is that you can accessorize to match your style without losing the summery vibe of the flowy shirt and white shorts.
This look is super girly, lightweight and the go-to outfit you wear out on a higher temperature spring day.
The floweriness of the blouse makes this outfit work for both the spring and summer seasons.
Whether enjoying a solo walk or a meet up with your girlfriends, this look serves comfy, casual, cute spring ALL DAY LONG.
Look 5: Fly & Up Against the Wall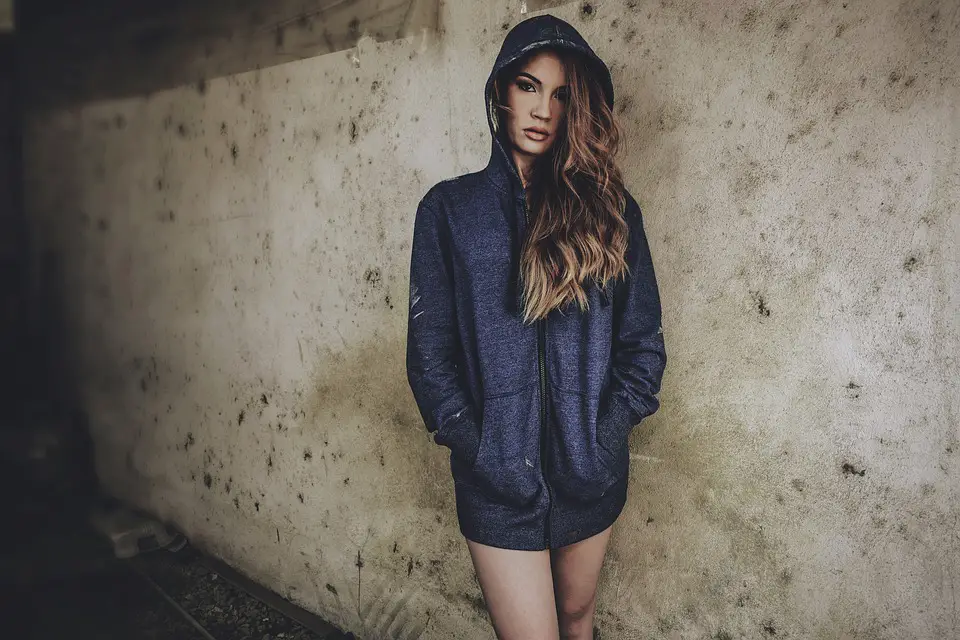 Another look featuring the ever increasing athleisure trend because we just can't get enough of it!
Our model is sporting an oversized hoodie styled as a minidress. When worn this way, this look is super sexy and athletic and the same time. This look is perfect for mid-seventies.
To dress this down, add a pair of black leggings, an oversized shoulder bag, and Vans. Nail the dress down look by wearing your hair in a ponytail or high bun.
If you want to dress it up, pair this top with knee high boots and throw on some hoop earrings.
Nail this look by wearing your hair in a cascade of waves and pulling the hood over head just so.
Look 6: Pop in Print!
Ladies, are you looking for a versatile outfit to wear in seventy-degree weather with an edgy, high-fashion feel? Look no further!
We LOVE this look because it incorporates two staples which can be worn in a variety of ways.
The geometrically patterned wide, half sleeve top which reaches mid thigh can be worn as a jacket to a sleeveless striped black, red, or white business dress and paired with a 2" – 3" inch closed toe heel.
This outfit will impress your coworkers and your lunch date.
Another ensemble look is the pantsuit. The pantsuit top and bottoms go together perfectly to complement any woman's shape.
The geometric patterns are reminiscent of the 80's runway styles that are peaking back into fashion staples this season.
Our model opts to pair the jacket with the pantsuit. She wears this outfit effortlessly and matches its boldness with her own edge.
Pair either look with sunglasses and a clutch to complete the overall look. This outfit is perfect for a night out on the town when the weather is in low to mid-seventies.
Final Say!
The seventies brings a range of temperatures from cool and breezy, to scorching hot.
Whether you are looking for an outfit to wear to work, school, a party, or an outfit to effortlessly take you from business to happy hour, we've got the perfect looks for you, so you'll be comfortable and stylish.
What's your favorite outfit to wear when it's seventy degrees outside? What did you think of our seventy-degree weather looks?
Share which look was your favorite below!
Until next time, XOXO!