Yes, it's that time of the year again!
The days are getting longer and brighter, blossoms are blooming, the sunshine brings out the busy bees and the women dust off their delicate sundresses. Spring is easily considered to be the most lively and exciting season of them all!
While 'florals  for spring' may not be considered 'groundbreaking', there is a reason it has remained a tried and true staple. Why not get some floral art designs painted on your nails?
There are so many ways to incorporate floral prints and designs into your everyday style, and nail art is no exception!
It's a perfect excuse to take some creative risks or flirt with a softer and more romantic side of your personality. There's an infinite amount of ways to delve into the spirit of the season with floral nail art designs!
With so many colors, textures and designs to play around with, your mind will definitely not be lacking inspiration.
Here I have listed 20 fun and fabulous floral nail art designs. I guarantee there is something in here for every woman to try or draw inspiration from.
1. 60's and 70's Retro Nail Art
The 60's and 70's are back and bigger than ever this year!
Get into the groove of this retro trend by sporting some bold psychedelic flowers in bright fluorescent colors like vibrant hues of pink, yellow, blue and green.
Set the background in either black or white to make these flowers really pop and make the most of this fun statement.
2. Summertime Sunflowers Floral Nail 
A yellow and black combo have never looked so cute together!
If sunflowers are one of your favorite things about the summer time, try painting your nails a saffron or golden shade of yellow and drawing the outline of a sunflower in black.
If you are trying a DIY approach at home, be sure to use a fast-drying glossy top coat over the yellow and wait for it to dry before painting the black lines on with a striper brush.
Create the sunflower seeds by painting a half circle at the bed of the nail with black polish and then using a dotter tool with your yellow polish to create the illusion of the seeds.
3. Merlot Tulips Floral Nail Art
Compliment your favorite glass of red wine with handful of merlot and nude colored nails.
The simple elegant long-stem flower adds a delicate touch of softness and femininity to an already romantic and classic color pairing.
The petals may be more difficult to paint than it looks, especially if you want to have smooth lines as shown in the picture.
I recommend purchasing a kit of brushes specifically for nail art and a correcting pen for any small mistakes.
4. Magnolia Garden Floral Nail Art
Have you ever wished you could take a magnolia garden with you wherever you go? Well your dreams may have just come true!
Try recreating this look by using a fresh shade of apricot as a perfect spring time background. Add a glistening glossy top coat and wait for your nails to dry before getting to the fun part – adding the flowers!
You can create an all white garden as shown in the picture by using decals or painting it yourself by hand with white paint.
Of course the by-hand method will probably not be as clean, but it allows for some personal creativity.
5. Mix N Match Diva Floral Nail Art
Essie has some of the best selections for pastel colors! For this elegant and feminine look pair Essie's 'Mint Candy Apple' with white dots and pink roses.
These nails are perfect for any outdoor formal occasions or weddings coming up this spring and summer.
Also, for those of you who are not type-A perfectionists, this design leaves a lot of room for unsteady hands to make small mistakes. Perfect clean lines not required!
6. Pastel Daydream Floral Nail Art
For more pastel floral designs, try painting these simple multicolored florets onto a clear polish top coat.
The simplicity and elegance of this design is perfect for casual daytime or special formal occasions. You can make this look your own by painting your ring fingers a solid baby pink or pale blue.
Add some crystals or studs at the center of each flower to add more dimension and bling if you wish
7. Regal Roses Floral Nail Art
Here are some glamorous gilded roses for the lady who appreciates a little luxury in her life. What a perfect way for making a luxe statement wherever you go!
Start with your favorite shade of blush pink as the base color layer. To begin making the roses dab a small amount of a rosy pink like OPI's 'Japanese Rose Garden' on a napkin or disposable plate and use a toothpick to swirl and lightly mix in a few drops of blush pink.
Paint circles and half circles using the mix to create the roses and leaves. Use a gold chromatic polish to outline the roses and draw petals.
8. Florals and Stripes Nail Art
Who says you can't mix florals with stripes? Mix and match patterns for a set of playful nails to enjoy all week long.
Use either a striping brush or tape to create clean straight lines. For the intricate flower pattern it is recommended to have a few different decals to choose from. You can eve mix and match different designs together in order to create one look.
Lastly, top everything off with a glossy top coat coat that will make your nails shine all week long!
9. Lavender French Tips Floral Nail Art
Here's a sweet way to add some flavor to your usual French manicure! Instead of the same old ordinary white tips, opt for a lovely shade of lavender.
Make these nails spring-time fresh by adding some white daisies and adding a stripe of your favorite silver glitter polish across the edge of the lavender to add some sparkle and finish off this perfectly feminine look.
10. Multi Colored Garden Floral Nail Art
Can't decide which flower you love the most? Why not just paint all of them? Start by painting your nails a pearly creme and wait for them to dry.
Next use your polish dotter and striper brush to create a mix of your favorite flowers. Make it fun by using bright fluorescent colors to give this pattern a whimsical vibe.
11. Maroon Romance Floral Nail Art
Nothing says romance quite like maroon red roses. Using a toothpick draw these roses on top of your middle and ring fingers.
You can continue this pattern on all 5 of your fingers, or opt for an ombre effect on your pinky and index finger. To create the ombre you will need to first paint all three colors across a small sponge in separate lines.
Next, carefully dab your finger progressively from side to side with the sponge. Finish it off with a strong top coat and voila!
12. Electric Daisies Floral Nail Art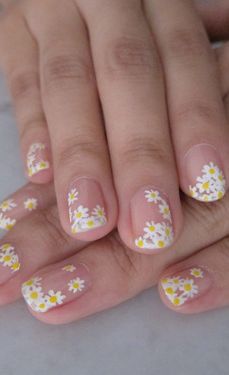 Who's ready for more daisies? Welcome the sunshine with a bundle of daisies cascading down your fingertips! This design is so easy and effortless to recreate, I recommend this one to anyone who is just getting the hang of painting their nails themselves.
All you need is a clear base coat, white and yellow polishes and a glossy top coat to finish. Use a dotter or toothpick to make small and refined circles for your daisies.
The rest is history!
13. Dark Romance
Want a little bit of dark beauty romance in your life? How about some dainty pink nails with a few glossy and sparkling flowers laying atop them?
Wear this look for a romantic night out with that special someone.
Match it with an elegant and understated little black dress and a pair of strappy heels for a full-on bombshell vibe to take on the night!
14. Hippie-Chic Floral Nail Art
Mix some tropical colors in with this hippie-chic floral nail art design.
Don't be afraid to be a bit spontaneous by randomly selecting fingers on each hand to rock a French manicure, while others can be painted solid white.
Go crazy and get wild painting these lively stems and petals all over your nails!
You're boho inspired nails will have you ready to rock some vintage peasant tops and distressed bell-bottoms in no time!
15. Bold Flowers
Steal the show everywhere you go with some bold white floral nails. Decals are recommended for this look, however are not necessary.
For an edgier look stick to only red and black flowers, or mix things up and play around with different color combos.
Stick to a well rounded almond shaped nail, as it perfectly compliments the bold yet feminine style of these nails.
16. Grunge Flower Child Floral Nail Art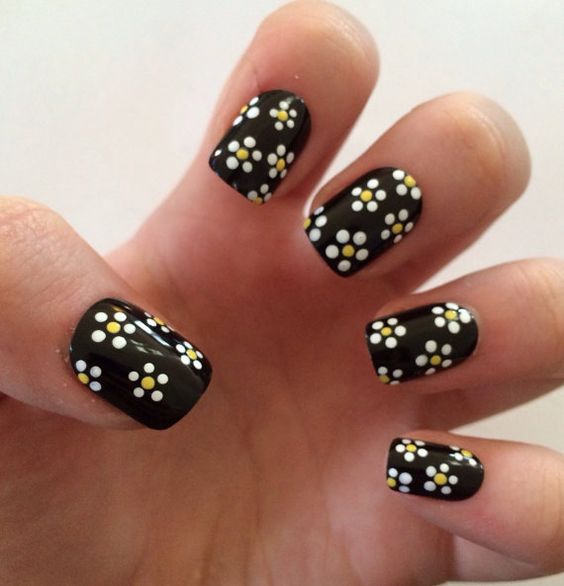 For all the grunge-centric 90's babies, add some black nails with white daisies to compliment your wardrobe of worn-in flannels and barely-there crop tops.
These floral nail art designs are for 'the girl at the rock show' who also has a softer side to show off to the world.
Perfect for the nail art novice, simply use a dotter to strategically place a few white and yellow spots and you are set for the next few days!
17. 3D Diva
Don't attempt to recreate these pretty fingernails at home! Go to your most trusted nail professional to help recreate these 3-D floral printed beauties.
Acrylics will more than likely need to be used, unless you already have incredibly strong and long nails to begin with. This muted mauve will add a touch of sophistication to any outfit or occasion.
You can even revisit this style in the cooler months of fall and winter, so if you don't get a chance to try this one right away don't worry about, you have all year!
18. Cherry Blossoms Wild
Before you head over to your local Japanese garden this season, be sure to put some cherry blossoms over your perfectly manicured french tip nails.
In this nail art they have clearly used decals, however these flowers are incredibly easy to paint when using a dotter to create the blossoms and a striper pen to draw the stems.
Now that your nails are perfect you can take a picture perfect photo with a cherry blossom tree for instagram!
19. Whiteout
No time for timeouts; this is the season for whiteouts! Go full swing into this bright weather by bolding rocking some glossy white fingers.
Leave the ring fingers bare except for a clear matte top coat and create some flowers out of white dots on top.
Carefully place a few pearls to the center of each flower and you are ready to take on the town!
20. Feminine Florals
Roses are red. Violets are blue. What's more feminine than baby pink hues?
These petal pink roses are for the hopeless romantic woman who values simple elegance above all. While keeping the thumb, index and middle fingers a natural pink, paint the ring and pinky a bold white, then add pink roses above.
Perhaps add some sparkly ring bling to the beds of your nails if you are feeling extra glamorous and you are all set to go!