All right ladies, let's talk about curves!
Who doesn't want hourglass body shapes and curves that can make anyone drool over and die for? Your curves make you look beautiful and confident, and it is a known fact.
If a perfect posture and an hourglass shape is what you desire for this spring and summer, waist cinchers are what you need to look for!
A staple product that adds a flair to your personality may it be a cute spring dress or a more formal outfit, waist cinchers make you look polished and put together every time.
All the baked goodies that you treated yourself with during this winter must have added some pounds on you.
As spring is just around the corner, you must be looking ways to cut off that muffin top and back fat.
While you exercise your way out of the pounds, we have found some waist cinchers that can do the trick and make your body all shaped and ready for summer.
And who doesn't want that?
Top 10 Best Waist Cinchers
It can be confusing first to find a great waist cincher if you never had one, but hey, you don't need to worry.
As we want to save your valuable time, we have already researched and shortlisted the ten best waist cinchers that can help you look curvy and give that hour glass shape to your body.
1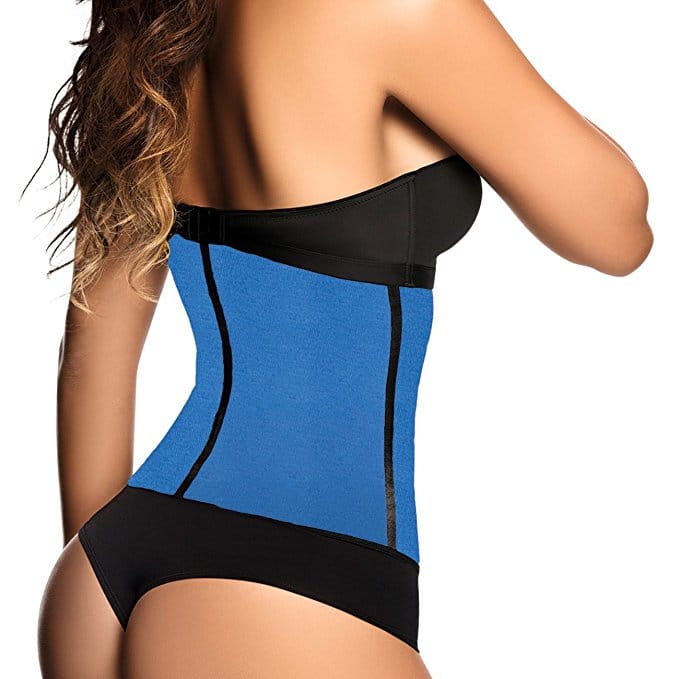 This Ann Chery Deportiva Workout Cincher can become your security blanket if you want to have a nice sleek hour glass shape all the time even when you are lagging in your workout schedules.
It is a perfect workout partner as it keeps everything in the right position and helps you with core exercises.
Ann Chery provides this amazingly fitting cincher which is noted for its tight fitting yet comfortable attributes.
Mostly used for waist and abs workouts, this cincher is just for you if you like to live an active life.
Be it a quick daily run or hours long workouts, this cincher creates a compression in your core and stimulated thermal activity, which means you can easily sweat away your extra pounds.
However, there's one thing to keep in mind with this product, the cincher fits very tightly.
If you are used to wearing small sized clothing, you might want to order a medium size of Ann Chery Java Cincher, i.e., a larger size than you normally wear.
PROS
Great for workouts.
Excellent Support.
Provides great shape.
CONS
A bit tight. (One size bigger is better)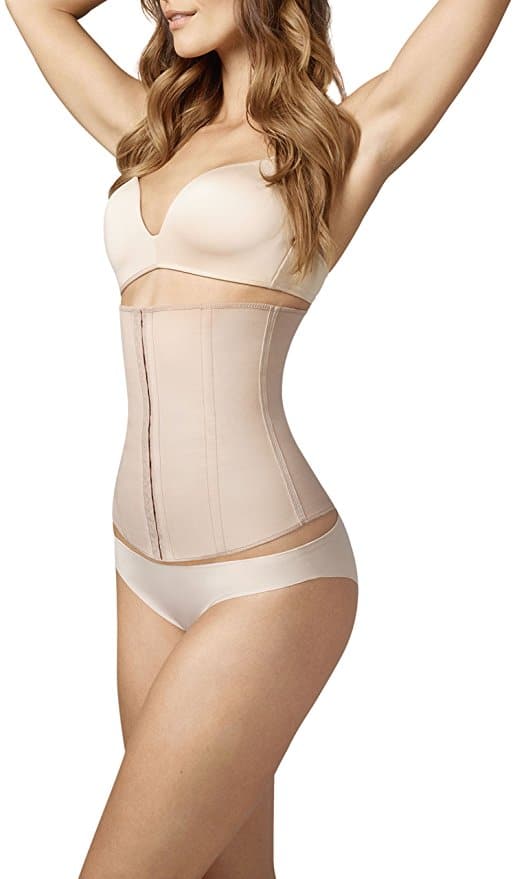 A cincher made from 100% cotton, this Squeem Perfect Waist Compression Trainer is a great buy.
A sleek hourglass body for outdoors and during workouts, this waist cincher is fit for any occasion.
This cincher tightens the midsection of your body to give an hourglass shape by contributing the fats in the area equally.
Also, it helps shape your backside without giving a bulging area near your underarms, which is amazing for you ladies who does not want to be conscious about your body every single time.
Another thing to be happy about this cincher is that there is a size chart which is pretty much same as your regular clothing size. But if you like it a bit tighter, you can always go a size smaller.
This cincher can be used both as a trainer and that little secret you wear beneath your dresses during parties and whatnot.
This cincher is best known to help you well with your posture as it tightens the midsection of your body.
This reduces inches off your body instantly and gives you have a nice elegant body shape.
PROS
Soft cotton fabric.
Reduces inches off body instantly.
Good back support.
CONS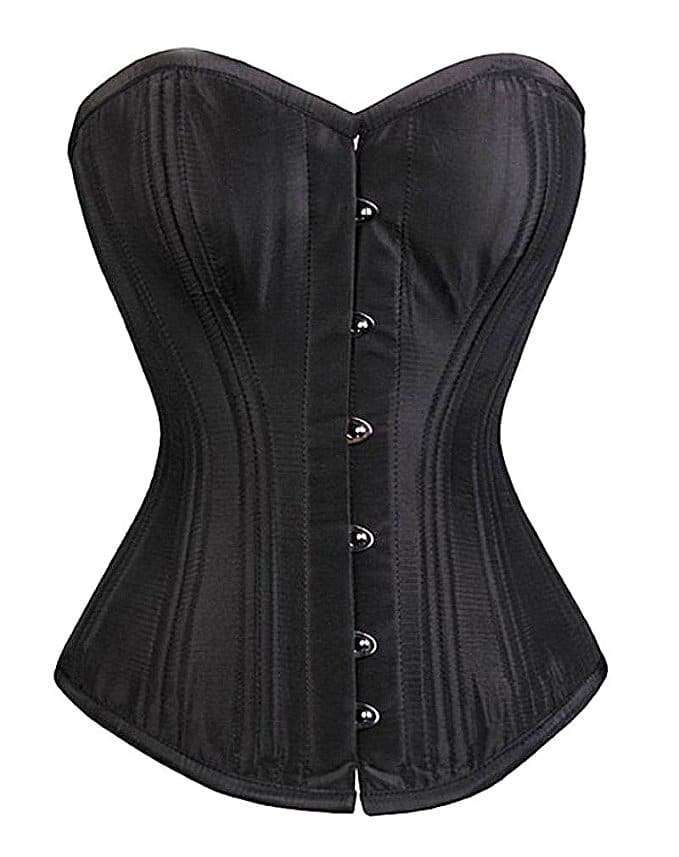 This waist trainer and shaper is one of the best you can find in the market today.
Camellias Taffeta Double Training Waist Training Cincher can easily help with the muscle trainings around your abs and waist area.
​
Although it may sound to be very tightening and hard to perceive as smooth, this cincher is in fact one of the most comfortable to wear inside any type of dresses and get a trimmed look.
This waist cincher has a long torso which means it also helps uplift your bust area giving a fuller look to you while slimming down your back and waist.
It is also noted for hiding the muffin top in your lower back which is always a plus point for ladies who like to hide those little pounds inside a cincher.
On top of that, you wouldn't have to worry about the perfect size for you as it fits similar to your regular clothes.
PROS
Heavy duty cincher.
Uplifts bust area.
Fits with the perfect size.
CONS
Takes time to adjust if you don't prefer tight clothing.
Squeem again makes it to our list of the best waist cinchers!
How can it not when Squeem has become one of the best brands out there which produces these amazing cinchers for us?
Of course, one of those amazing products is the Squeem Compression Miracle Shapewear which has been loved by so many ladies.
It is one of the most comfortable cinchers out there, made up of 75% natural rubber and 25% cotton.
Its special design emphasizes your natural curves while smoothing the midsection.
In addition, the internal flexible boning of this cincher prevents garment roll-ups which can be very annoying while wearing a body shaper.
An ideal fitting waist cincher, this Squeem shapewear is mostly used as an innerwear for party gowns and other outfits while it can also be used during workouts.
If you hate the heat on your skin while working out, this cincher can be perfect for you as it is light and airy while tightening in the midsection of your body.
The bonus point of this cincher is that it is vest-like which means it's easy to wear and it supports your bust area to make it more lifted and profound.
However, this cincher seems to stretch a bit after some wears so we suggest you to buy wisely by looking at the size chart.
PROS
Heavy duty cincher.
Uplifts bust area.
Fits with the perfect size.
CONS
Takes time to adjust if you don't prefer tight clothing.
This is another vest styled waist cincher, now by Ann Cherry.
This little product is a much-needed supplement for your active life if you like to exercise and give yourself a nice hourglass body.
A product true to its size and purpose, this latex cincher works visibly in the midsection area of your body by cutting off the extra muscles where you will get a curve that you desire for.
This Chaleco Latex by Ann Cherry is noted for its beautifully thin artwork which fits so tightly to your body that you can hide it inside any of your outfits.
There is one problem with this product, as this is made up of latex, it can smell of latex to some extent.
However, the product goes by the rule of size chart and you can always order one fitting to your body by looking wisely at the chart.
Just wanted to add that this cincher is one of the best out there when it comes to activewear and workout supplement for ladies who like to put some effort to stay healthy and beautiful.
PROS
Cuts off extra fat.
Amazing fit.
Great for workout.
CONS
A bit tight and requires some time for comfortability.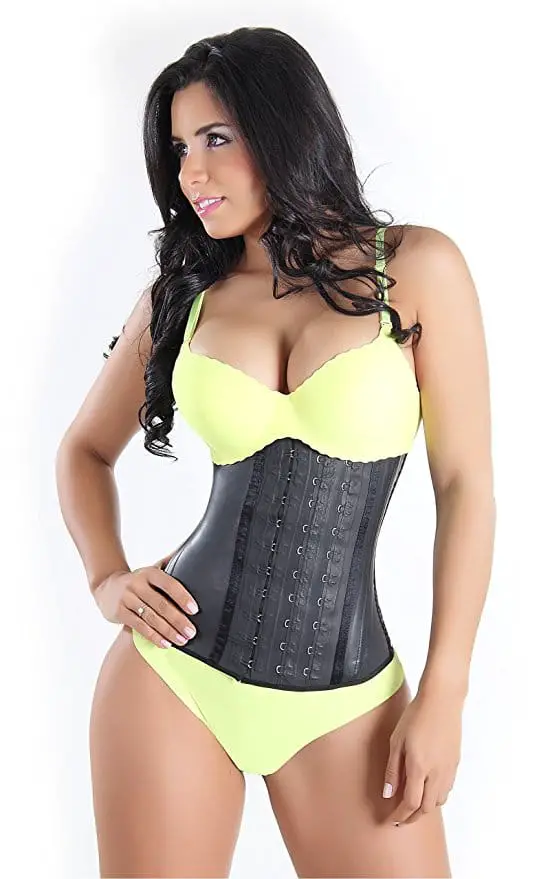 Fajastec Women's Beauty Classic Latex Waist Cincher is a fantastic product for ladies who are always confused about sizes.
That's probably all of us, if you know what I mean. This cincher comes with three hooks which can instantly give you three size options.
It is a high compression latex cincher which means this product is very useful for perfecting your posture.
Also, there is no compromise with comfort with this product as it is made up of 100% cotton lycra.
Another thing to take care while buying this cincher is that this product is made exclusively for inner shapewear and not for wearing during exercises. This cincher is also liked by many mothers who have used it after their deliveries.
As this cincher is tight fitting and clenching in the mid-section, it helps keep the belly sucked and muscles tight to give a better-looking waist area to you.
This waist cincher is made up of latex which means the thermal action in the abdominal area while wearing this cincher will be helping you to tighten your stomach muscles.
All in all, this is a perfect cincher for moms after birth and for controlling and molding your waist area.
PROS
Good sizing.
Soft to wear.
Great for mothers.
CONS
Tight-fitting and clenching.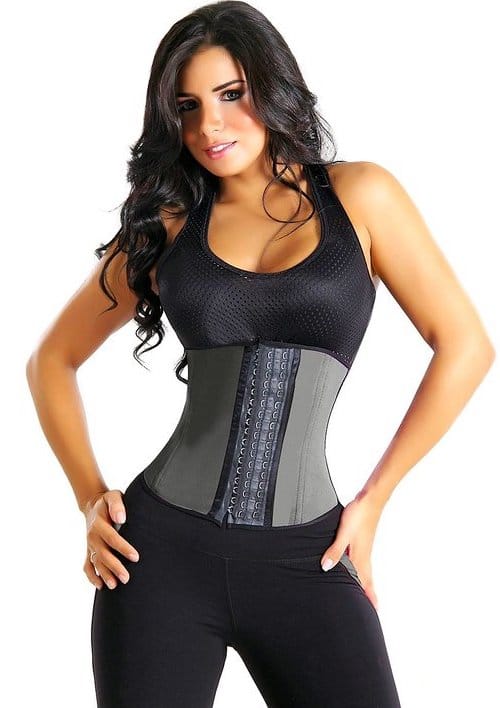 I hope you are all still up for another great product that can help you have an hourglass shape.
The Hourglass Fashion Corset Weight Loss Cincher is one of the best multipurpose cinchers we've reviewed.
This cincher can be used in special occasions under your expensive dresses, inside your regular day to day dresses as well as when you get up to exercise.
As the material is made up of latex on the outside and cotton in the inside, this fits tightly around your waist area inducing thermal action and helping you melt the fat around your belly while you exercise.
As this cincher keeps your muscles around the torso area tight and in place, this can help your body posture while walking, sitting and what-not.
Also, you can alternate the sizes three ways as there are hooks in 3 different rows enabling you to go a size smaller or larger whenever you please.
There's one complaint with this product that you should buy a size smaller that you usually wear, in order to have a tight-fitting cincher which can last longer.
PROS
Hourglass shape.
Cotton material.
Very comfortable.
CONS
Might require one size smaller for perfect fit.
This DPrada Surgery Fajas Colombians Operatorias is one of the most comfortable shapewears out there which not only works to shape your tummy but also your butt and bust area.
This is not just a waist cincher but a whole suit which proportionate the muscles and body fat in the right part of your body giving you a better shape and posture.
A cincher made specially for post pregnancy to reduce the post-partum girdle while helping you lose weight with the compression and thermal technique.
This garment is made up of lycra in the inside which provides optimal comfort to your skin while you wear it. On the outside, it is made up of power-net which helps you in maintaining the desired shape of body.
Among many of its benefits is that this cincher is seamless which means you can wear it inside any of your clothes without worrying if it will show the lines.
This cincher can be worn during exercises, during parties and even during regular days and it helps in losing weight and tightening your muscles ultimately shaping your body into an hourglass figure.
In addition, this garment has a specially made 2 layered crotch area which assists you during your bathroom visits. Now that's always something to look for in a cincher, as far as I know.
There are not many negative sides of this cincher, however, we suggest you to buy it after looking wisely in the provided size chart before ordering it.
Also, if you can't decide upon the size as you are stuck between sizes, we say, go a size up just because it is a whole-body suit and shaper and getting a smaller size can be very uncomfortable to wear.
PROS
Good for exercise.
Great to lose weight.
Perfect for post-partum.
CONS
Might require one size larger for fit.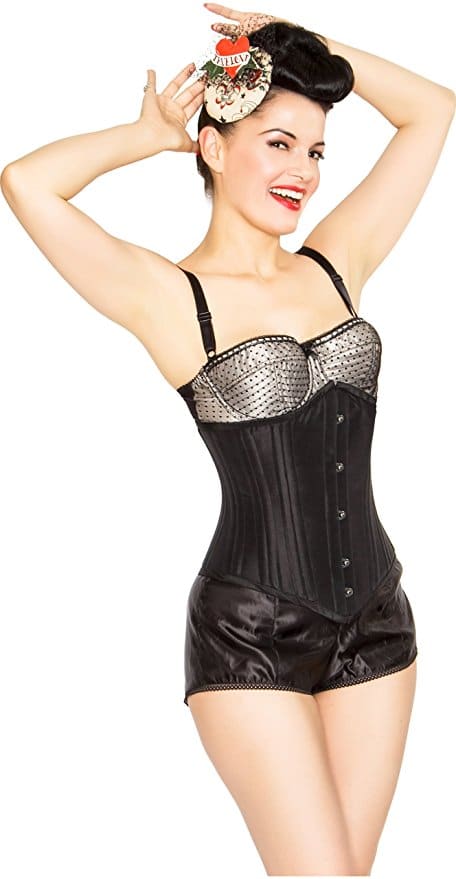 This waist cincher is the best if you want to begin wearing corsets as this is one comfortable and good quality corset by the brand "Playgirl". It can be used for both a daily wear and for waist training.
This can be used for tight lacing whenever you want to have an hourglass body shape whether it be for a perfect night party underneath a beautiful gown or for an intense workout focusing on your abdomen and waist area.
A corset that can keep the area between your bust and hipline perfectly trimmed while you go on with your regular day-to-day job, this corset is very durable for its material.
However, if you have a larger hip area than bust area, this corset can be a bit difficult for you to wear it. So, we suggest that you take a good observation of size chart and buy one by measuring your body precisely.
PROS
Perfect as a beginner.
Can be worn daily.
Offers hourglass shape.
CONS
Might be difficult for people with larger hip.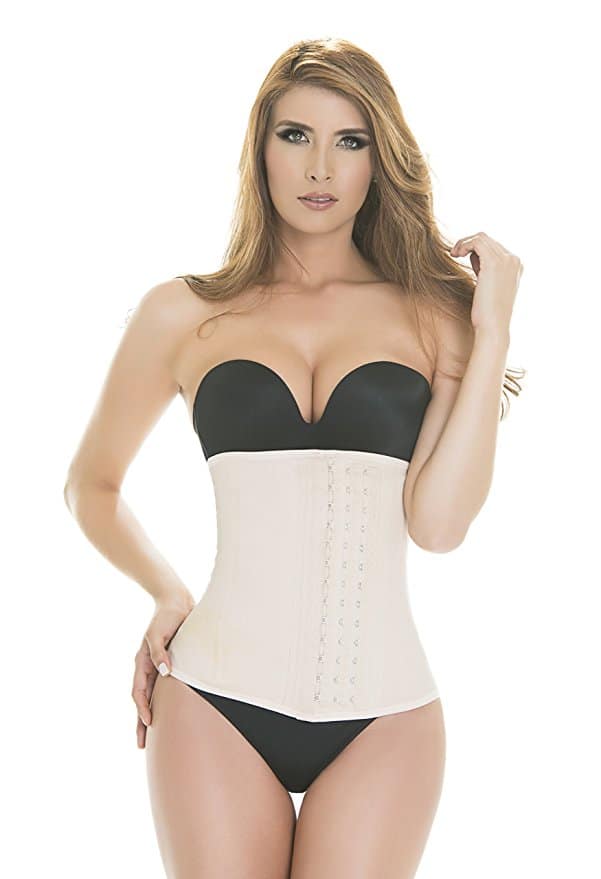 The Maxine Trainer Shaper is one of the most comfortable and useful cincher in the market.
Made up of 100% spandex in the outer layer and from 95% cotton and 5% spandex in the inner layer, this cincher is very comfortable for the ladies like us who put comfort ahead of anything else.
It is also very supportive as it has two steel flexible boning rods, both in the front and in the back such that it provides full support to your spine and corrects your posture while you wear it.
It also has three rows of hooks which can help you alter the size of your cincher whenever you desire. Hey, that means you can eat a little more during a dinner party. Cheers to that!
This garment company also helps society and is true towards corporate social responsibility which is just another reason to buy their product and support them.
A handcrafted product of Colombia, this body shaper is perfect if you love to have an hourglass silhouette and want to lose some pounds off your waist area.
PROS
Very comfortable.
Provides great shape.
Helps lose weight.
CONS
Things To Consider Before Buying Waist Cinchers
Waist cinchers are body shapers that help equate your muscles and fats in the torso area and make your back and abs look fabulous, giving you a perfect posture and body shape.
It is a dream come true for ladies who dream of having a 36-24-36 body and fit into the cute dresses of your imagination.
If you have a perfect waist cincher in your wardrobe, it instantly reduces your waistline and makes your outfit look ten times better suited to your body.
However, there are many things that you need to consider before buying a waist cincher for yourself.
Core Support– Waist cinchers are famous for helping in losing weight and maintaining body postures by supporting the core of your body.
So, look for waist cinchers that have better core support.
If you have issues with humpback and have a hard time walking straight, these cinchers can help you out to some extent.
Size– While buying waist cinchers, you must always look at the size chart, given the size of shapewear are completely different from your regular clothing sizes.
You may not get a perfectly fitting size on your first order so stay patient and do not hesitate to ask the stores where you buy cinchers from to exchange your ill-fitting cincher with a better size.
Fabric– A good cincher must be very comfortable and made up of soft and comfortable fabric, especially in the area where it touches your skin directly.
So, look for cinchers made up of cotton fabric in the inner side.
Strength– Look for the strength of latex as sometimes the latex cinchers can lose their structure over time which can ruin the shape of your waist shaper.
A cincher having a good structure with around 2 to 4 wires can be good support for your spine however, getting one more than that can become very uncomfortable.
Flexibility– While using a waist trainer during exercise, look for cinchers that are soft and flexible and those that can create thermal action in your body which can help you in losing weight at the abdominal area.
The Verdict
Alright, you now have an idea how to shop for a good waist cincher which can be very tough if you are new to this concept.
We believe that you love and celebrate your bodies and it's not cheating when you use these cinchers as they help you look great while also supporting you during your exercise routines.
Happy Shopping To You!