Wakes are often an informal event where family and friends gather to celebrate the life of a loved one who has passed.
When dressing for a wake, you only have to consider two things: is it respectable for the venue, and does it reflect my personal style?
When we consider these two questions, it's really quite easy to dress for a wake. Take a look at the outfits and combinations we've found to inspire your wake and funeral wear.
Classic Black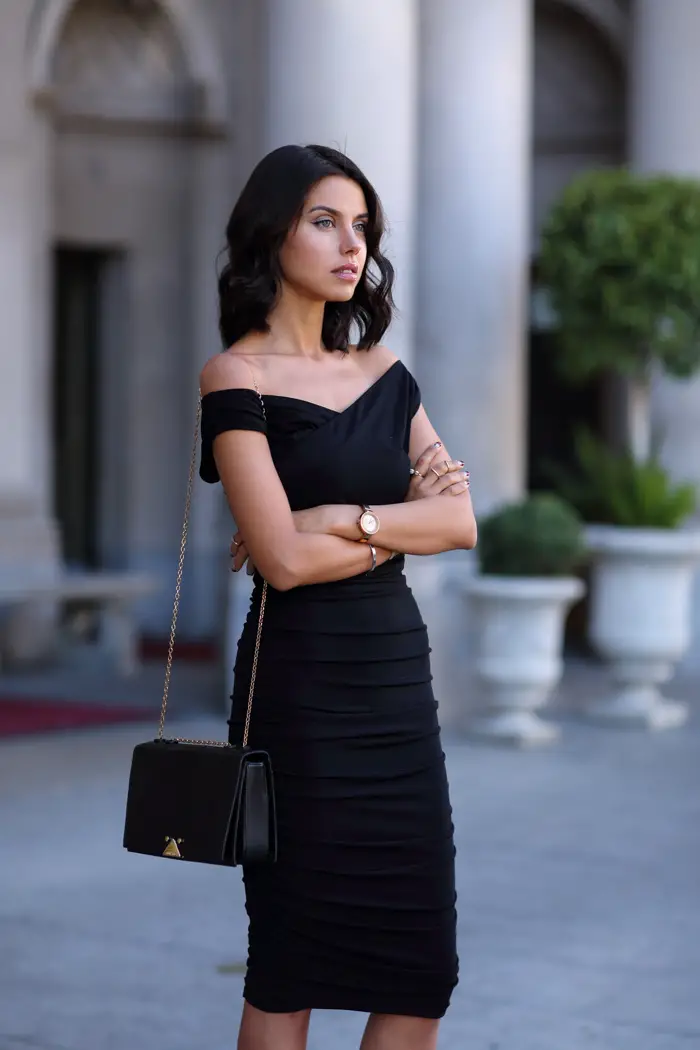 This look is your classic wake/funeral wear. If you have a black dress, simply pair it with some black pumps and Voila!
There you have the core components of a simple and versatile ensemble which can be easily accessorized to meet your personal fashion style.
You can wear simple jewelry such as a watch, bracelet, or ring. Grab a handbag or clutch, so you can easily carry your must-have items.
Pops of Color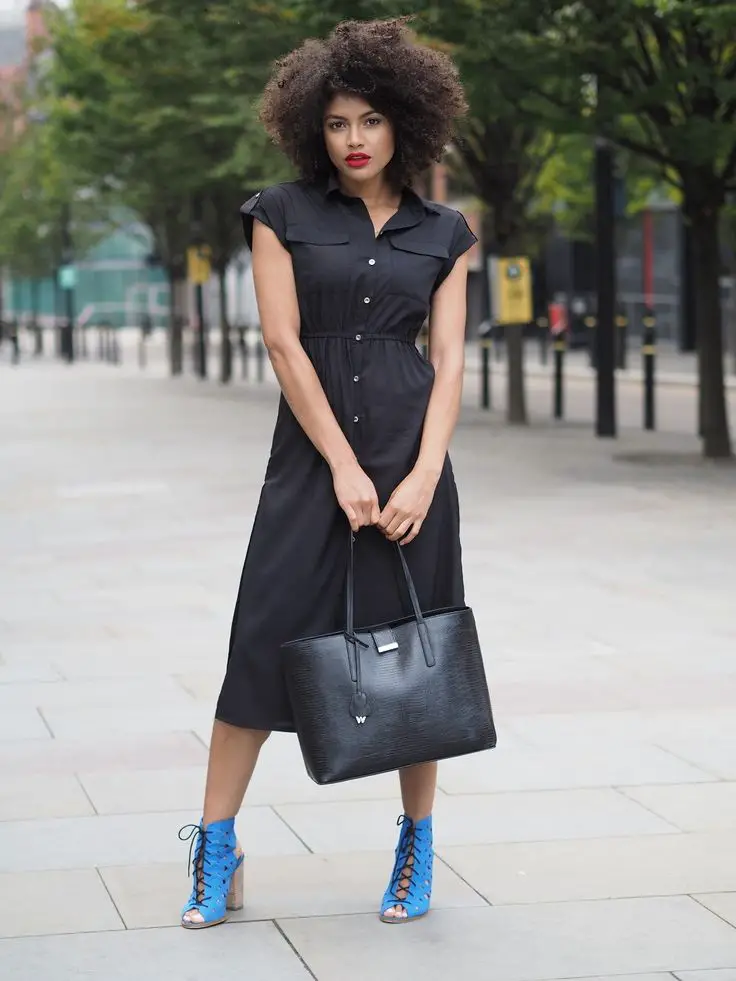 This look is a spin on the classic all black wake/funeral wear. This outfit features a mid-calf length, button down black dress.
You can pair your outfit with a bold colored shoe and a bold lip; our model paired her dress with with bright blue open-toed heels and a bold red lip.
These pops of color allow a little personality to shine through without taking the focus away from the event. In an outfit like this, you are sure to be respectable to both the wake/funeral venue and your personal sense of style.
Amazing Grey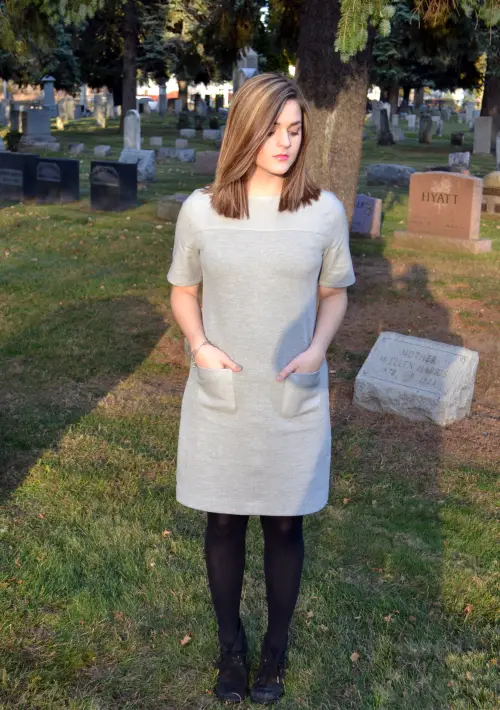 When it comes to wakes and funerals, grey comes in second to black as the go-to color.
You can choose to wear a dark grey anchor piece and accent it with another dark color such as burgundy or navy blue. The model in the left picture is wearing a dark grey dress, and she has paired it with burgundy tights and a simple burgundy stone necklace. She complements this color pair with light brown booties and a brown hat.
You can also choose to wear a light grey anchor piece and accent it with black. This color pairing can be easily accessorized with simple jewelry and a black clutch. The model in the right picture is wearing a light grey knee-length dress, and she has paired it with black stockings and black flats.
Typically we see grey suits, or firm grey dresses, but these looks offer an alternative to the status quo.
Floral Patterns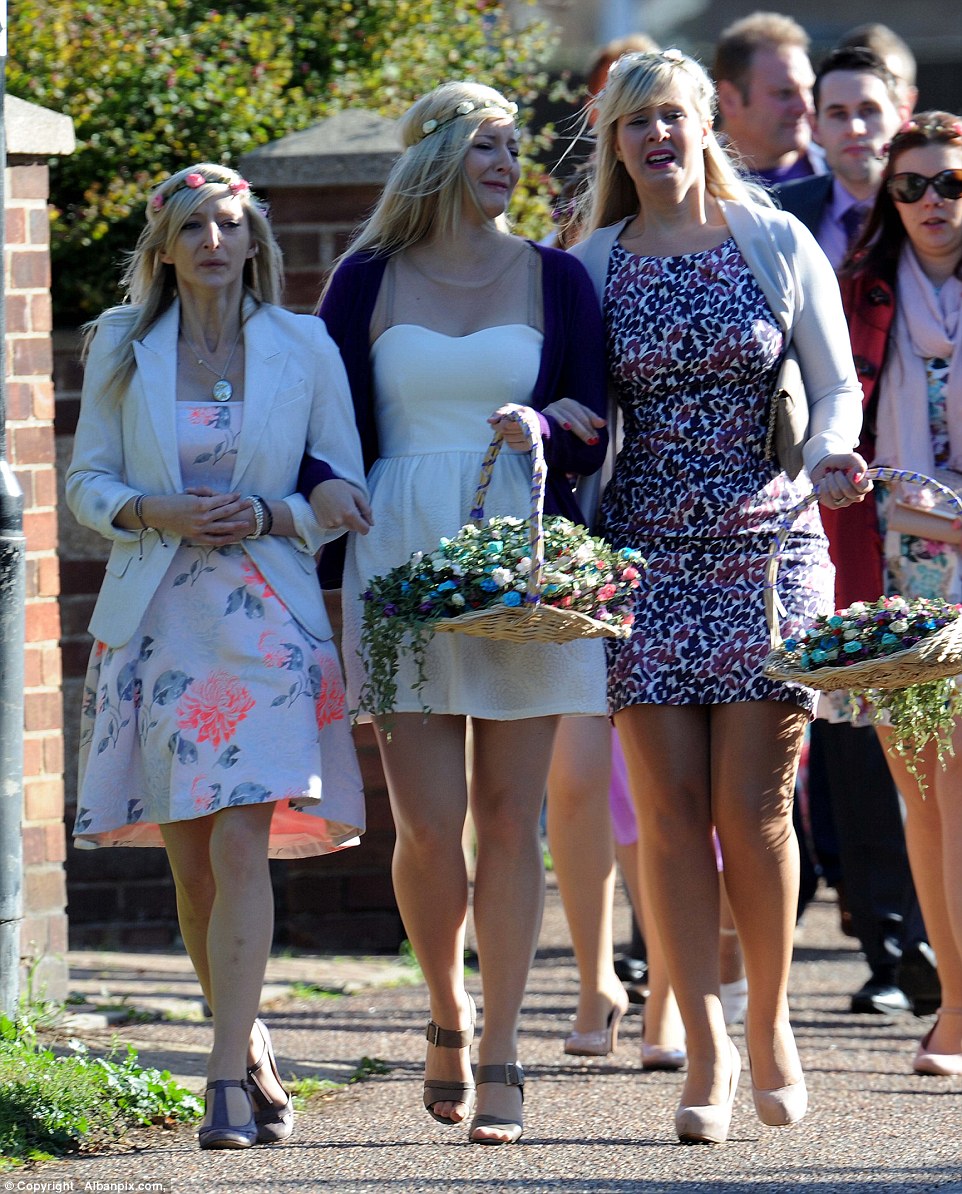 Floral patterns can add some pizzazz to the blanket of outfits in the black, grey, and  brown color scheme.
Our model has paired a pink and green floral dress with a brown button-down blazer, a thick white scarf, black leggings and burgundy booties. She accessorizes with a beige shoulder bag accented with leather straps.
This look ditches the ordinary wake/funeral attire and puts a little fun in the room to lighten the mood while still respecting the event.
In warmer months, remove the tights, blazer, scarf and booties. Instead, opt for black or burgundy flats or heels, and carry a light sweater to account for chilly or windy weather.
Greens
Green is an earth tone which means its versatility is perfect for working into your wardrobe for any event, including a wake or funeral.
You can opt for a dark green dress, or you can choose a dark green piece to anchor your outfit. When choosing green, you will want to make sure the colors you choose to accent your anchor piece (dress, skirt, or slacks), will make a seamless pairing.
Good colors to pair with dark green are white, beige, tan, brown, black, navy blue, and even burgundy. The model in this image is wearing a dark green skirt which she has paired with a cream colored short sleeved blouse and brown platform sandals. She accessorized with a beaded bracelet and a white bag.
You could pair a dark green pair of dress slacks with a white blouse and black shoes. Accessorize this pair with a navy blue stoned necklace and a bold lip to add some color to the outfit. If you would like to go against the grain and wear an unpredictable color, green is the one to choose.
Brown
Brown is another earth tone that fits in well with the go-to color scheme for wakes and funerals. There are so many variations of the color brown which makes it easy to match with other colors and accessorize. Another great thing about wearing brown to a wake is that it is versatile — not too formal, not too casual.
The model in this image wears a pair of deep, dark burgundy pants paired with a denim blouse, a brown blazer, and snakeskin pumps. She accessorizes with a brown leather shoulder bag and a simple wrist bracelet.
You could wear a brown blazer paired with dark denim jeans, or a dark colored skirt (try blue, green, burgundy, or even a deep shade of purple). You can pair the dark bottoms and brown blazer with a light neutral top for contrast and style.
Wear black or brown heels to add length, or wear flats if you are looking for comfort and style.
Conclusion
Planning what to wear to a wake is not typically the easiest thing to do. Whether you want to play it classic or add some fashion funk to the the gathering, we have the looks to inspire your wake and funeral style.
What do you typically wear to a wake or funeral? Leave a comment below to tell us your thoughts about our wake and funeral looks!
Until next time!
XOXO!