Sixty degree weather is usually chilly. But sometimes, sixty degree weather is super nice.
When it is sixty degrees outside, and I am choosing my outfit, I like to consider the weather and my agenda for the entire day: Is it going to rain? Is it going to be sunny?
Is it going to be humid or misty? Am I going to be walking, standing, or sitting for a long period of time? Will I be in the office or out and about?
Do I have time to go home and change for dinner with friends after work?…Yes, it is a lot to consider, but I find that when I think of all these scenarios,
I'm often able to come up with a killer outfit that will function and turn heads. I do this easily by following a general rule of thumb which allows me to be prepared for whatever the weather gods throw my way: LAYERS.
Sixty degree weather gives so many options for fashion. You can really go super layered, slightly layered, to not layered (with access to layers) depending on the weather temperature and conditions.
This is a season where fashion is in a creative space which allows you to mix and match pieces according to your personal comfort, style and function.
I've put together six looks which incorporate layers, trends and straight up classic pieces.
Take a look to get some inspirations for what to wear in sixty degree weather.
1. Black & Denim
During 60-degree weather, you've a lot of freedom to dress yourself up and stay as classy and you can be. Wear a black skinny cut jeans with a black blouse that is embellished with a floral neckline and a floral breast pocket.
Or layer yourself up with a denim jacket and topped off the look with a down, thigh-length coat. Make your outfit complete with open toe pumps with ankle straps, and a chocolate chip walnut cookie.
You look even better if the body of the outfit is classic black accentuated by the blues and greys in the neckline of the blouse and the denim jacket.
The open toe pumps have a thick heel which provide ample support for a day of walking around and handling business. They also dial up the flyness of the outfit and allow you to sit pretty when you're meeting up with friends or associates.
This outfit allows comfort and all day functional in weather that fluctuated from sunny but breezy mid-sixties to chilly low-sixties.
2. Earth, Wind & Sun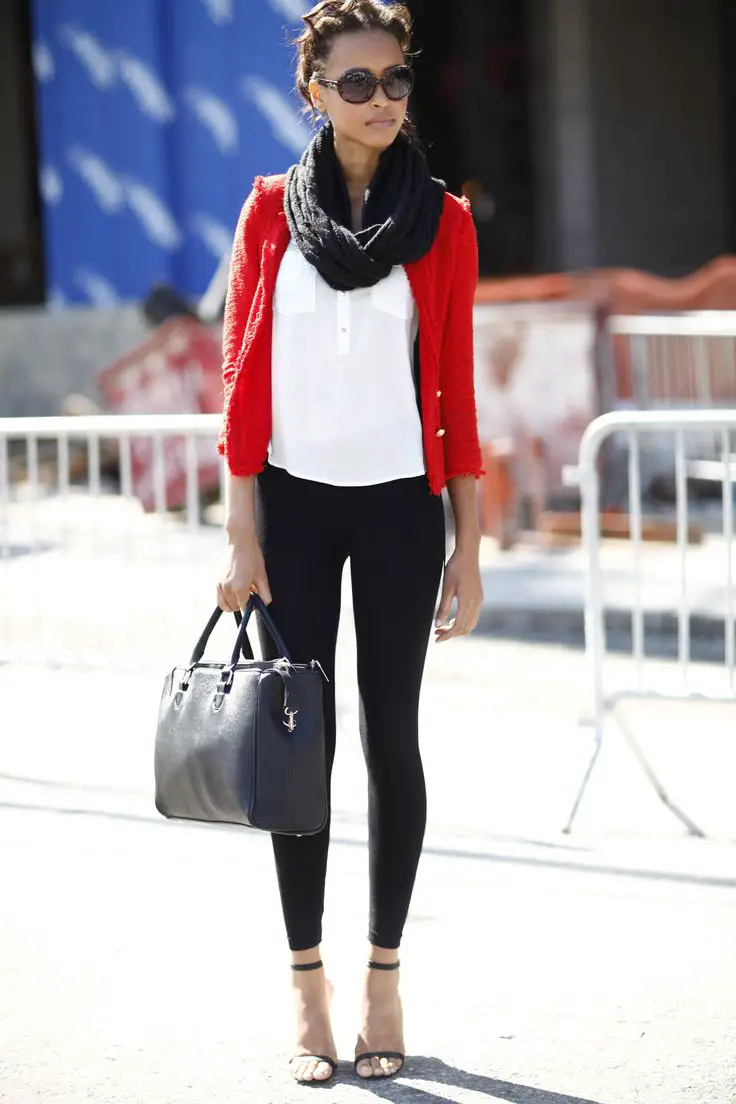 Nothing can feel more comfortable during 60-degree weather other than black sports leggings with sheer panels on the side of your legs, paired with a short sleeved blouse.
Or, you can also layer yourself up with a satin, floral print athletic jacket. This looks good when accessorized with brown rimmed shades and make you look flawless.
Make sure that the color and fit of the leggings and blouse gives the outfit a classic touch.
The floral jacket is right on trend as we keep seeing floral throughout the season. To dress up the outfit, wear burgundy pumps as they bring out the colors in the jacket and the highlights in your hair (we like it brown).
This outfit is super comfortable. You can move around easily, and handle the transition in weather from super sunny and warm to sunny and chilly without a single shiver.
Shout out to the sun for the providing the natural filter.
3. Casual Friday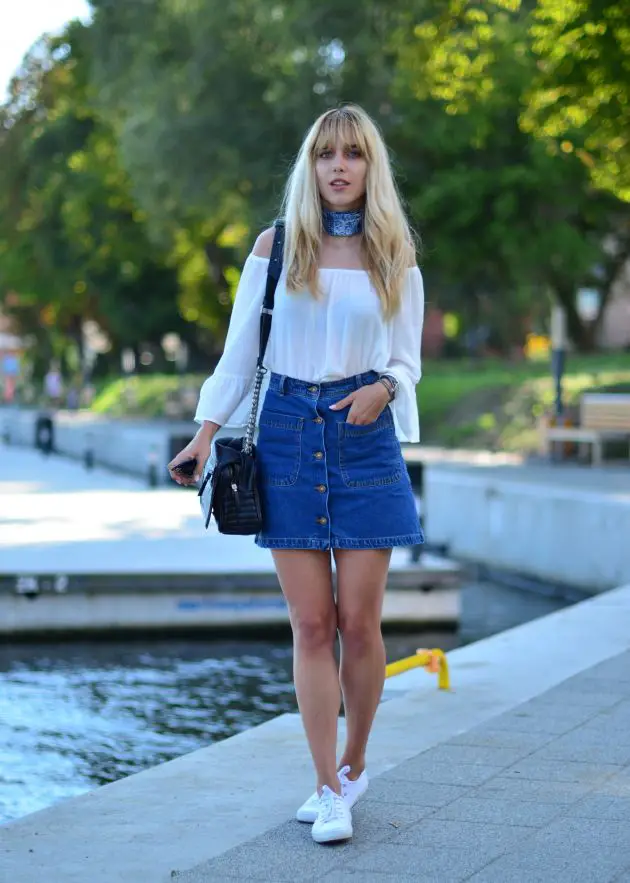 Sometimes sixty degree days are so warm you can rock it with your legs out and no jacket.
We generally call this a casual friday look where you can outfit in a burgundy blouse with a plunging neckline and three-quarter balloon sleeves tucked into a fitted, ripped knee-length denim skirt with a front split and paired with burgundy pumps.
Accessorize the outfit with a thin black belt with a gold buckle and black shades with gold details to get an amazing look.
This kind of outfit does two things at once: tt dresses up casual, and it dresses down business.
Make sure the color in this outfit pops against the natural background and allows you to move from work to play without having to stop home and change.
Keep a pashmina scarf and hooded jacket in the car to layer your outfit when the temperatures drop into the lower sixties.
This look pairs classic elements in a cohesive way. You can make this outfit your own by swapping out the blouse with an off the shoulder dress blouse, and swapping out pumps for a pair of dress flats or a pair of flat casual shoes like Toms or Keds.
4. Just Chill
On a sixty degree day when the weather fluctuates between rainy and sunny, and all you've got to do is run errands, sweats are dope.
Dress in grey sweats with two sets of pockets (a set of thigh zipper pockets and a set of pockets right on the hip), a black fitted tee-shirt, layered with a sweatshirt.
Pair this outfit with a pair of black and yellow Jordans, and accessorize with a fitted dark grey baseball cap.
This look is on par with the athleisure trend which is increasingly popular these days. The colors go well together to fit the weather and temperature.
The outfit allows comfort and flexibility and allow our model to be stylish as she moves around without feeling weighed down.
The sweatshirt can be removed and tied around the waist when the temperatures go up to the higher sixties.
5. Denim on Denim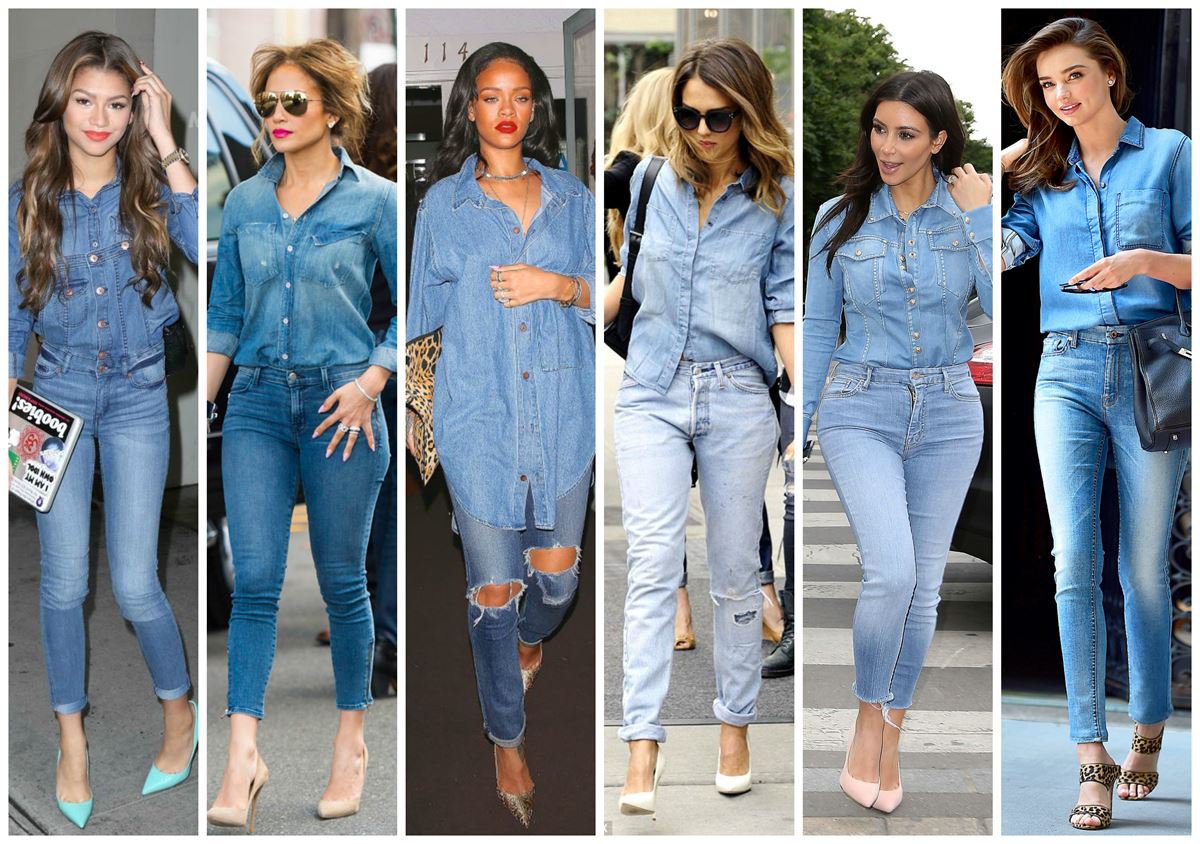 When it's sixty degrees and sunny, it's cool to pull on timeless pieces and mix them with funky pieces to create a unique outfit. When considering denim on denim, just do it!
A lot of people love wearing loose fitting denim pants with the hem rolled up to just above the ankles.
Pair your denim pants with a bright blue floral printed kimono top with fringe on the bottom, and layered with a ripped denim jacket. A denim on denim with navy blue, four inch, leather pumps looks great too.
This look is perfect for a lunch date or date night.
Denim on denim is making a comeback, and pumps are timeless. The incorporation of the floral, fringed kimono blouse plays up the fun and creative element of the outfit.
To dress this outfit down, swap the kimono blouse for a graphic tee and the pumps for your favorite booties or sneakers.
6. Layered from Top to Bottom
A layered look from top to bottom looks great on drizzly days when temperatures are in the low-sixties.
Work a sweater-shirt and pair it with a maroon scarf wrapped around your neck and shoulders tucked into an open black biker jacket paired with a maroon and grey plaid mini skirt.
Snug in colored tights and warm your feet up in brown booties which lace up to the bottom of your calves.
This look is multifunctional.
You can wear it to class, to meet up with friends, or to spend a day out on the town.
The boots add dimension to the outfit and compliments the scarf and details in the plaid skirt. Wear a black biker jacket if you want to tie all the elements of your outfit for a clean, polished look.
Conclusion
Sixty degree weather inspires creativity and flair in fashion.
Whether you need to be layered up for a day of drastic temperature changes, or you want to dress to enjoy the sunshine, we've got the perfect looks for you to be comfortable and stylish.
What is your go to piece when it is sixty degrees outside? What did you think of our sixty degree weather looks?
Share which look was your favorite below! Until next time, XOXO!